Healthy Life,
Healthy Joints
Get nutritional support for your joints and support joint mobility with VitaPost ProJoint Plus.
Order Now
‍
Supports Cartilage Health
‍
Supports Natural Joint Mobility
What is ProJoint Plus?
VitaPost ProJoint Plus is an expert blend of herbal extracts that is designed to support joint health. Containing 1500mg of Glucosamine Sulfate, ProJoint Plus can help support your healthy joints.1 Another key ingredient in ProJoint Plus is Chondroitin Sulfate, which is naturally present in the extracellular matrix of your skin, cartilage, ligaments, bones, and tendons.2
Supplementing joint health is easy with ProJoint Plus. It is a supplement made with high-quality ingredients, and it's trusted by happy customers worldwide.
With ingredients seen in :
Benefits of Using ProJoint Plus
‍
Supports Cartilage Health
Glucosamine and Chondroitin found in VitaPost ProJoint Plus are essential ingredients to the formula, which supports healthy cartilage and joints.
‍
Supports Joint Health
Joints are tested by the intensity of sport. One of the best things you can do to maintain healthy joints is give the body the nutrients it needs. A great way to get extra joint support nutrients is by taking VitaPost ProJoint Plus.
‍
Supports Healthy Joint Mobility
Having a healthy diet is essential for supporting healthy joints. If you want more nutrients like glucosamine and chondroitin, it's time to try ProJoint Plus.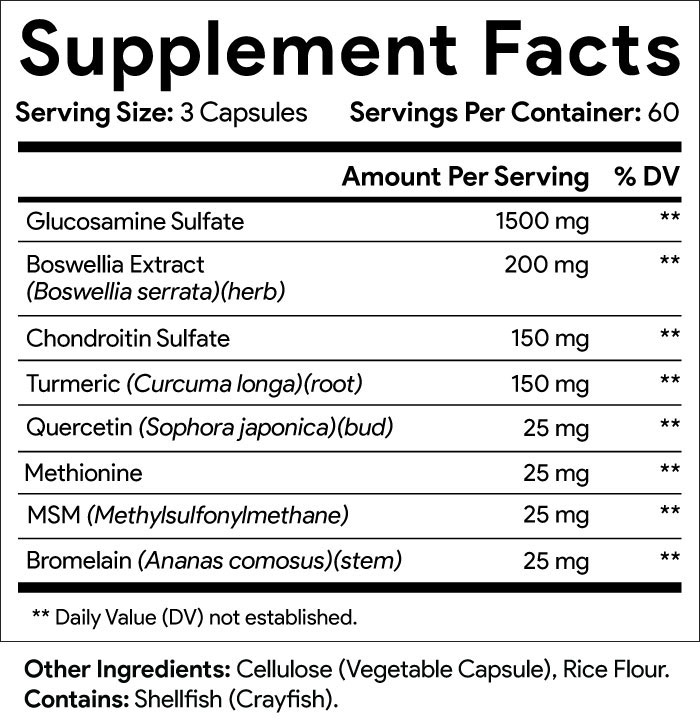 ProJoint Plus Ingredients
VitaPost ProJoint Plus is packed with ingredients that can provide support for cartilage and joint health. Take a look for yourself below.
Glucosamine Sulfate
‍
‍
One of the most commonly used ingredients for supplementing joint health is glucosamine sulfate. Glucosamine sulfate is a chemical compound that actually occurs naturally in the body, and is found in the fluid surrounding your joints.1
Chondroitin Sulfate
‍
‍
Another commonly used ingredient used in supplementing joint health is chondroitin sulfate, which is naturally found within the cartilage between joints. Chondroitin sulfate is responsible for the resistance and elasticity of healthy cartilage.1,2
Quercetin
‍
‍
Quercetin is an absolute superstar when it comes to natural ingredients. Quercetin has useful antioxidant properties, fighting free-radicals and oxidants. Oxidation is a naturally occurring process in the body, which is associated with aging and can put a strain on the bones and joints.3
Methionine
‍
‍
Another excellent source of antioxidants can be found in methionine. Methionine is converted into cysteine in the body, which is a precursor to glutathione. Glutathione has antioxidant effects, which not only fight against oxidants and free-radicals but also help by working synergistically with the effects of vitamins C and E.4
MSM
‍
‍
Methylsulfonylmethane (MSM) is a chemical that occurs naturally in the body. It has broad benefits as a nutrient, including as an antioxidant and in support of healthy joints.5
Bromelain
‍
‍
Bromelain is an extract that is found in pineapple fruit. It is actually a protein-digesting enzyme. Bromelain has been shown to be a useful nutritional ingredient for general health.4,6
Boswellia Extract
‍
‍
The use of boswellia extract for herbal support of joint health has been traditional knowledge for thousands of years. Concrete scientific studies are still needed to confirm its benefits, but boswellia is of great interest to the natural health community.7
Turmeric
‍
‍
Curcumin, the primary active compound in turmeric, has quite a number of reported benefits including potent antioxidant effects. Turmeric has been added to ProJoint Plus to help stabilize the formula. 4,8
Testimonials from our customers
Don't just take our word for it, thousands of people have experienced the benefits of the ingredients in VitaPost ProJoint Plus for themselves, and this is what a few of them had to say.
Already a customer? Write your review now ‍
‍
Helping with joints -
Lucille Cox
Product arrived on time and need to take longer to see how much it helps.
‍ Yes, I would recommend this product
‍
Happy with the product! -
Aldisa Sabanovic
I bought this for my mom because she is having knee and joint pain. She has noticed some improvement after taking this product.
‍ Yes, I would recommend this product
‍
Significantly helped elbow pain -
Heather NIchols
I've used ProJoint Plus for 1 month, taking 1 pill in the morning and 1 pill at night. After 2 weeks, I noticed the pain in my elbow begin to ease off. Now, I feel NO throbbing pain at all! I am buying a bottle for my husband to try!
‍ Yes, I would recommend this product
Click here to read all reviews.
Professional opinions
The ingredients in Projoint Plus have been exhibited in many forms in mainstream media and from research clinics and organizations.
"Glucosamine, which is made from shellfish, and chondroitin, which is made from cow cartilage are being used every day by millions of Americans — including, reportedly, George. W Bush."
Published by Harvard Health Publications, October 2016
"Glucosamine helps form several chemical compounds involved in the creation of articular cartilage and synovial fluid. Some studies indicate that supplemental glucosamine may protect joint tissue by preventing the breakdown of cartilage."
Published by Healthline, September 2018
"Glucosamine is vital for building cartilage. Cartilage is a flexible, tough connective tissue found in several parts of the body. This firm, rubbery tissue functions as padding at the ends of long bones where they meet joints."
Published by Medical News Today, October 2017
FAQs
Below are some of the most-frequently asked questions by our customers:
‍Taking ProJoint Plus
Do I need a prescription for ProJoint Plus?
ProJoint Plus is available for purchase without a prescription.
How do I use ProJoint Plus?
Take three (3) capsules a day with food or as directed by your healthcare professional. For quicker relief, take a loading dose of six (6) capsules daily for the first two weeks.
In general, you can take all 3 capsules with a single meal; or you can take 1 capsule with each breakfast, lunch and dinner. For the first two weeks you are welcome to take 3 capsules with breakfast and 3 capsules with dinner; or take 2 capsules each at breakfast, lunch and dinner.
Consult with a physician prior to use if you have any medical conditions.
I don't enjoy swallowing capsules. Do I have any other options?
While the ProJoint Plus capsule can be taken apart and absorbed in your favorite drink or food, we would not recommend this due to the taste. As this capsule contains compact powder, we would also not recommend splitting the capsule in half and attempting to swallow the halves.
Will ProJoint Plus help with my knee or joint pain?
ProJoint Plus provides natural support for the joints. ProJoint Plus is not a cure, treatment or preventative for any disease or medical condition. If you have any concerns about joint pain, you should talk to your healthcare professional.
‍Shipping, Sizes and Quantity
What are my delivery options?
We have global distribution to 20 countries worldwide. This list of countries is available in the first step of checkout.
Orders are processed immediately and shipping depends on which option you choose:
| Description | Price |
| --- | --- |
| USPS - Standard (3-5 business days) | $4.95 |
| USPS - Second Day (2-3 business days) | $9.95 |
| UPS/DHL/USPS – Tracking International (12-15 business days) | $9.95 |
How many capsules are in 1 bottle of ProJoint Plus?
ProJoint Plus contains 60 capsules in every bottle. This is equivalent to 20 days' supply.
How big are the capsules?
The capsules are a standard 0 size, which is less than an inch long (22mm). Most people consider this size easy to swallow.
Can I return my unopened bottles of ProJoint Plus?
Yes, we stand behind this supplement 100%, so we're more than happy for you to return your unopened bottles of ProJoint Plus within 5 months of purchase.
Voluntary returns are valid at our sole discretion. Any reimbursement will be determined by the total number of bottles (including free bottles) you received, the number returned, and the total product cost to you. See our Return & Refund Policy for more details.
‍Ingredients and Restricted Diets
Is ProJoint Plus free of common allergens?
ProJoint Plus contains Glucosamine, which is derived from shellfish. People allergic to shellfish should not consume this product.
For uncommon allergens, please check the ingredients list.
Is ProJoint Plus a vegan product?
ProJoint Plus contains shellfish, meaning it is not a vegan product.
‍Certification and Manufacturing
Are these certified by the FDA?
The FDA does not certify dietary supplement products, such as ProJoint Plus. However, ProJoint Plus is manufactured in an FDA registered facility that follows GMP (Good Manufacturing Practice) guidelines.
Where is it manufactured?
ProJoint Plus is manufactured in the US from quality imported and domestic ingredients.